Originally published at: https://menino.com/wp/2009/01/bbc-will-replace-white-upsy-daisy/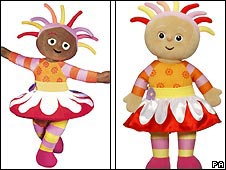 Several months ago, I noticed that the Canadian version of Upsy Daisy was white, not black. The doll based on the popular "In the Night Garden" children's show appeared a lot lighter than usual on Canadian store shelves. See my original post for photos of white Upsy Daisy.
Well, it seems that the UK press has picked up on the doll's racial conversion, and the BBC has agreed to replace the doll with a darker version.
The Guardian: BBC Gives 'Too White' TV Doll a Darker Face
and