Originally published at: menino.com - Miguel's website



Telus has decided that censorship is in the best interests of its customers. It appears that they are blocking access to www.voices-for-change.com and www.telusscabs.ca. These are union-related websites, and Telus would prefer that, in light of their current labour dispute, its customers not be able to access these sites.
Who knows? Perhaps people who visited this site could see that the workers have been without a contract for 5 years, or maybe Telus's customers would be able to see both sides of the labour dispute.
The question I have, though, is why are we not able to view these sites in Prince Rupert? Is Telus censoring Citytel's internet access?
Links to more information on the "Voices for change" site (which you won't be able to view if you're using Citytel or Telus):
http://www.voices-for-change.com/news/news_comments.asp?NewsID=53
Story on Boing Boing: http://www.boingboing.net/2005/07/24/phone_company_blocks.html
This is what a traceroute from outside of Citytel/Telus to www.voices-for-change.com looks like: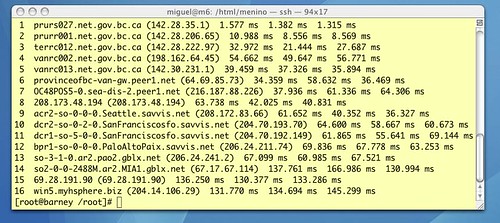 Pretty normal. Works fine. In this case, it was from within PLnet, which is part of the BC Government network.
Here's another traceroute from Sympatico Internet Service (in Vancouver):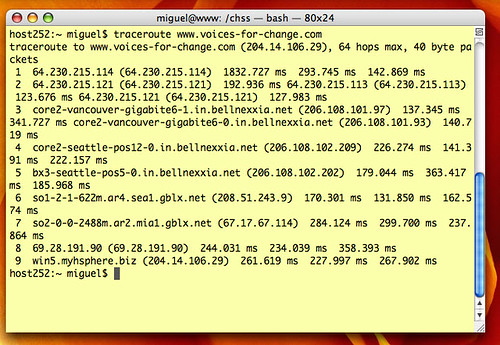 Again, pretty normal, it works fine.
But here's the same traceroute from my home computer, which is connected to a Citytel ADSL line: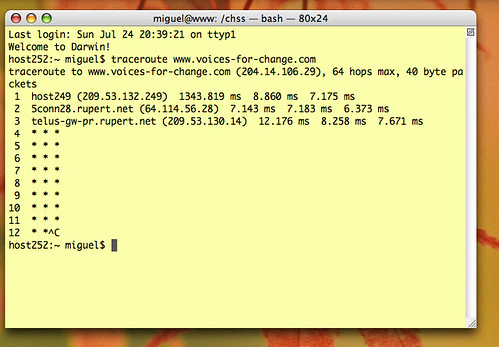 Notice where the connection breaks?
What's going on here?
Here's what Citytel's Prince Rupert customers would see if they weren't censored: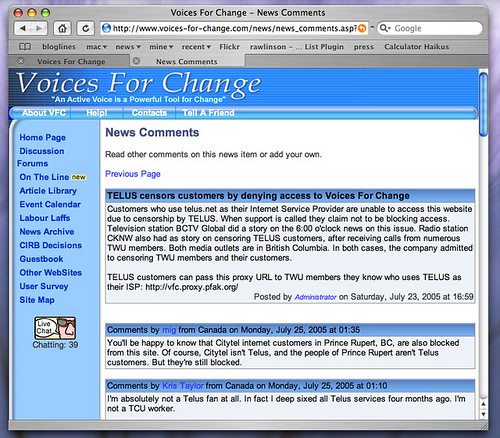 Update: Discussion forum on HTMF — local Prince Rupert web forum.