Originally published at: menino.com - Miguel's website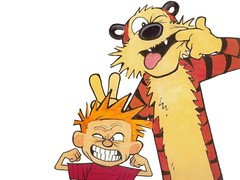 Ten years ago Bill Watterson, the creator of Calvin and Hobbes, left newspaper cartooning for painting. Since then, no new comic strip has matched the quality, longevity, or cultural dominance of Watterson's daily drawings about a boy and his tiger.
Read Calvin and Hobbes: The last great newspaper comic strip.