Originally published at: menino.com - Miguel's website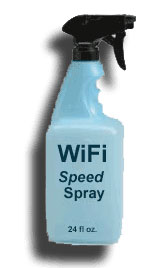 Want Faster Data Transfer?
WiFi Speed Sprayâ"¢ to the rescue!
This revolutionary product enhances the transfer of computer data through the air. You'll be amazed!
Do you live in a polluted environment such as Los Angeles? If so, you've probably experienced the heartbreak of data transfer slow-down. WiFi Speed Sprayâ"¢ can overcome the effects of pollution, increase fidelity, and provide you with the fastest wireless data transfer possible. Compatible with ALL 802.XXx standards!