Originally published at: https://menino.com/wp/2006/03/back-in-canada/


I'm back in Canada, and have a bunch of photos to go through. I'll post them when I sort them out.
Meanwhile, I found this in my bag when I opened it: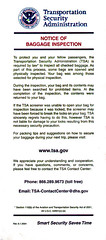 (Click the image for a larger version)
Also, the TSA guy was great. He was supposed to fingerprint me and take a digital photo, but once he found out we were from Prince Rupert, he just ripped up the entry documents and chatted about Northern BC. Then he even stamped our passports ("We don't really do this anymore, but if you really want it…").